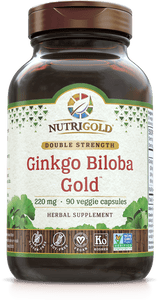 Product Highlights
Organic Ginkgo Leaf Extract
28.8 mg ginkgoflavonglycosides
7.2 mg terpene lactones
Non-GMO Project Verified
Certified organic by SCS Global Services
Certified by Vegan Action
Ko Kosher Certified
No contaminants
No pesticides
No herbicides
No harmful additives
No residual solvents
No magnesium stearate
No hexanes
Guaranteed free of 7 common allergens
Ginkgo Biloba Gold
Ginkgo biloba is one of the oldest living tree species and is thought to have existed for more than 200 million years. Native to China, the leaves of the Ginkgo tree are among the most extensively studied botanicals in use today. The two major active ingredients in Ginkgo Biloba Gold™ are ginkgoflavonglycosides and terpene lactones, both of which are thought to possess potent antioxidant properties.
Antioxidants are substances that scavenge free radicals, which occur naturally in the body and grow in number as we age. But environmental toxins (including ultraviolet light, radiation, cigarette smoking, and air pollution) can also increase the number of free radicals, and these free radicals are believed to contribute to health problems affecting the heart as well as overall cognitive function. Antioxidants such as those found in Ginkgo may help neutralize free radicals and support healthy brain function (especially among older adults), healthy circulation, and aging.
Most commercially available Ginkgo supplements are standardized to 24% ginkgoflavonglycosides and 6% terpene lactones and should be guaranteed to contain less than 5 ppm ginkgolic acid, which is found naturally in Ginkgo and can be toxic if consumed in high doses.