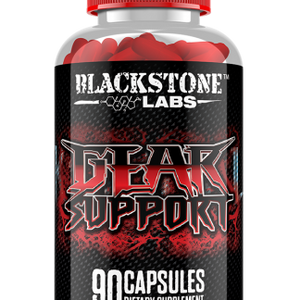 Running a cycle of potent muscle building compounds can bring some of the greatest gains you've ever experienced, but with those big gains comes some big risks that if you're not prepared for, can leave you broken, beaten, and bleeding.
Don't fret: as Blackstone Labs has you covered with Gear Support.
Gear Support is a robust and comprehensive cycle support supplement to be used anytime you're running an aggressive supplement cycle, providing the essential nutrients your vital organs need to stay safe and protected while on cycle.
Ingredients
N-Acetyl L
-Cysteine (400mg) is a powerful antioxidant that eliminates free radicals and neutralizes toxins. As a precursor to glutathione, another powerful antioxidant, N-Acetyl L-Cysteine promotes liver health and supports immune system function
Hawthorne Flower and Leaf Extract (300mg) dilates the coronary arteries, improving blood and oxygen supply to the heart. Hawthorne also strengthens the heart's pumping ability, aiding cardiovascular function and efficiency.
Saw Palmetto (200mg) suppresses enlargement of the prostate and helps prevent the conversion of testosterone to DHT (dihydrotestosterone) via inhibition of 5alpha reductase, thereby combatting male hair loss.
Red Clover (100mg) supports cardiovascular healthy by improving blood circulation and increasing HDL ("good") cholesterol. Red clover is believed to "purify" the blood since it exerts a diuretic-like effect in the body.
Celery Extract 4:1 (75mg) combats high blood pressure (hypertension) and offers some measure of liver protection due to its high phthalide content. Phthalides are volatile compounds present in celery responsible for the extract's efficacy.
Grape Seed Extract (75mg) protects cells from free radical damage due to its high antioxidant and polyphenol content. Research also demonstrates that grape seed extract supports cardiovascular health by improving circulation.